Competitions
The Draws for the upcoming season were made at the AGM and (Hopefully) should now be available if you click on the left.
Also The Fixtures for this year 2018 are now available.
DATES TO REMEMBER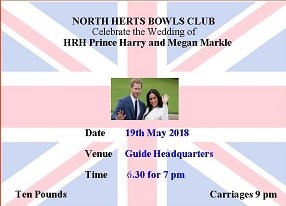 Lets Celebrate the Wedding
Invitations to our Royal Wedding "Breakfast" are now available. The reception with wine and canapes will be at 6.30pm, for a chance to mingle We will then enjoy a two course meal (duck legs in plum sauce, veg and dessert) The royal toast and a toast to the happiness of the "Happy couple"will follow. Carriages at 9pm Venue-the Guide HQ which is opposite the Bowls Club. Parking will be free at the bowls club carpark at that time. Cost £10 As this is a celebration and not a fundraiser there will not be a raffle. If you have a copy of your wedding photo and can lend it, I will display them and we can share reminiscences. Please get your "ticket" by the end of this month, at the opening clubnight if not before Looking forward to sharing the celebration with you, Dorothy
Working Parties
Willian will be relaying the ditch mats on Tuesday the 17th April , starting at 1000 hours and would be grateful for any help we can provide
Then
Our own Pre-season working Party will be on Saturday the 21st April, Again with a 1000 Hours start for hopefully about Two Hours.
Other dates
Green opens 23rd April 1400
First Social Evening 24th April 1700
Second Social Evening 15th May 1730
Hospice Evening 12th June 1800
Gala Day 21st July 1000
Fish & Chip Supper 3rd August 1800
Semi Finals for triples 27th August 1400
Finals Day 1st Sept 1000
Chairman's Day 28th Sept 1030
Presentation evening 30th Nov at the Golf Club
Of Interest
Following on from the AGM, It is hoped to run a Trip to the seaside (Hunstanston ?) for a game or two of bowls. This is currently being looked at I understand. I for one would really look forward to this and will let you have more details when they become known.