Whats on
As the season is drawing to a close , there is not much left to publish
07/09/19 1000 Finals Day
27/09/19 1030 Chairman's Day
27/11/19 TBC Presentation Dinner
Game v Stevenage
Captain Paul Riseborough thought this was one of the best results of season with NHBC winning on all 4 rinks. We won 19-11,18-14,21-7 and 34-5 (3v2 as they were a player short)Final Score NHBC 92 Stevenage 37
Game v Howard Gardens
Reports suggest that this match didn't quite go our way. At the break we were winning on 2 rinks and not far behind on the other 2. However we believe tea doctoring must have taken place because after the break we seemed to go to pieces and lost on all 4 rinks. Final score NHBC 44 Howard Gardens 95
Game v St Ippolyts
We had a lovely afternoon at St Ippolyts with the weather being just about perfect for Bowling. After 9 ends we were winning on 3 rinks and losing on 1 but were 18 shots ahead. we were then treated to a very nice selection of cakes ( I had two slices of battenburg , Yum yum) and we continued the bowling and finished up winning on all 4 rinks (A first for me as Captain) Final score NHBC 67 St Ippolyts 44
Fish and Chip Supper
Well I love this evening (must be the chips) especially when I seem to have a lot of luck which happened this evening. I bowled with Rae and Tony Glenn who both bowled superbly and we finished up winning the event with 72 points. My luck continued inside as well as me and the Mrs won 4 raffle prizes, Anyway we made a few quid for the club and thanks to Robin for doing a great job organising.
Finals Day 2 Woods
A notice is now on the board if you wish to enter for the 2 Wood Singles or 2 Wood Pairs Competitions which take place on Finals Day (7th Sept)
Biggleswade Game
Game cancelled due to Biggleswade not being able to field team.
Mad Hatters Tea Party
I understand that a good night was had by all and I have put some pictures in the Gallery.
Captain AXED
The captain for this game was axed after discoveries that an illegal betting ring was taking place on this game. Chairman Mike Jeffreys told Sky Sports that.... Ok perhaps not but Lynne returned to the fold for this game and became non playing captain at a sunny Sandy Ground. Welcome back Lynne.
As for the game itself passing Biggleswade we had a torrential down pour but 500 yards further on the sun was out and stayed out for the whole game. As for game itself I believe we had played Sandy twice already and the score was one win each. So a decider but we were losing by 23 shots at half time and despite a bit of a comeback we ended up losing. Final Score NHBC 59 Sandy 77
Game v Buntingford
Getting the address in the morning from there website was scary as the first thing you see is two England internationals. However as much as i would like to say they played and we beat them i cant. They fielded a friendly team in a lovely setting. The hedge is cut into the shapes of the seven drawfs and is really impressive. At half time we wre winning 44-32 and despite them saying they were going to doctor out tea we finished up winning. Final score NHBC93 Buntingford 68.
Game v Fairfield
Played at Fairfield on a sunny but blustery day we were losing at half time and finished up winning two rinks but losing the other 3with the final score being NHBC 74 Fairfield 110 but a nice afternoon.
Harold Hardy
The Draw for the Harold Hardy took place today (Thurs 1st Aug) and Is on web site now.
Game v Datchworth
At long last we got a play game against a very friendly Datchworth team. The weather was mostly greyish but was fine for bowling. At Tea time after 9 ends we were trailing by 10 shots and despite a bit of a comeback we ended up winning on two rinks but losing more heavily on the other so the final score was NHBC 58 Datchworth 64.
Last three games
The games v Stevenage and Willian were postponed due to the heat and the game against Steeple Morden was postponed due to the rain. Doh cant get the right mix of weather !
Gala Day
Well what a day we had on Saturday the 20th July. The weather people were predicting heavy rain and thunderstorms and on arrival a few black clouds were in the sky. As it happens we had about 15 spots of rain all day and the weather was great apart from a slightly gusty wind which managed to break a gazebo but was refreshing in the hot sunshine.
The green had been freshly cut and looked in good condition and we had 5 live rinks for the 20 teams to play on. At 1000 battle commenced with the first group of 10 playing followed at 1100 by the other 10. Then it was the turn of the Spider and it seemed like everyone contributed a quid to have a go. All proceeds going to the Samaritans. Then it was time for lunch for 10 teams whilst the rest played game 2. Following on from lunch a raffle was held again in aid of the Samaritans. If anyone can advise what we raised please let me know.
As for the bowling it looks like it was a win for Willian 'A' and Robin Edmett and friends who I believe both scored 17 Points.
Gillian and Peter Frisk and Bob Hart, Willian 'F' , Pippa Clayton and Friends, Willian 'D', and Willian 'E' all scored 15 points.
The thanks bit, I know a lot of people put a lot of effort into this and if I've forgotten anyone, again let me know. I know Dorothy , Rose
and others performed heroics doing the dinner. Mike I saw adding up scores all day long and the tea people who kept me going with lovely cups of tea. I know Simon and Jim were up early setting up and Bob for doing the raffle and spider.
A Big THANKS to those and all other helpers.
Finally I have updated some pictures in the gallery section of the day. A little tip if you want to see a picture a bit bigger just right click and open in new Tab.
Website
I try to keep this up to date but at times fall behind. If you see a mistake or want me to add anything just email me. I now believe it is all up to date with competitions as well. Cheers Andy
Holwell game 17th July Postponed
Unfortunately Holwell cant field a team so game has been cancelled.
Game v Melbourne
On a nice day for bowling we entertained Melbourne and what an afternoon it turned out to be. At Tea we were winning by 3 shots overall with no more than 2 points separating all 4 rinks. Anyway Brian Davey's rink were 9-2 up, Then I believe 18-9 down yet finished up winning 22-18. Jim Mustoe's team finished a tight battle all square at 17 each. But Basil's team were triumphant 21-6 , with the words of 'Basils on fire' being echoed not just by Basil but all who played. My team lost on the final end 16-18 despite going into the last end winning by 1 but a really enjoyable game against a friendly Melbourne team. Final Score NHBC 76 Melbourne 59.
Game v Letchworth
We had one winning rink, one drawn and lost on the other two.The final score being NHBC 53 Letchworth 64
Game v Hitchin
Well my winning run of 1 game came to an end as we were losing at tea and went on to lose NHBC 49 Hitchin 84
Game v Shephalbury
On a lovely sunny day we won two rinks but lost on two but finished up losing 49-60. However i believe it was an enjoyable afternoon.
Game v Buntingford
Well i went into this game with my 100% record as Captain in tact. Yes i hadn't won a game. However that was to change as we all bowled well and we end up winning against a very social and enjoyable crowd by 77-46. My First WIN !
Game v Howards Garden
Again the weather defeated us this timebut if was because it was too hot and no parking available as everyone was at the swimming pool . There fore the game was cancelled
Cairns Cup
We played Holwell 2 rinks at home and 2 away. We Won 1 rink away by 1 shot (see below) and lost the other by 8 meaning we were 7 down. The home teams were pretty close but overall lost by 3 shots so we lost by 10 in Total.
Mikes Shot in Cairns cup!
We were losing by 3 on the final end with them holding shot about 9 inches in front of the jack when the Skips bowled. Looking at the situation I said to Mike 'You need to hit the jack (which he couldn't see) by about a quarter of an inch but only move it two feet six inches' to where we had 3 bowls sitting. Ok it was tongue in cheek but Mike bowled and hit it perfectly giving us 4 shots. So we ended up winning by one. Definitely the best shot i have seen.
Game v Sandy
Unfortunately I got stuck at the hospital for this game and Gill Davey stood in for me. Brian Davey also picked up the captaincy and John Wigglesworth picked up me Brother. A good game by all accounts and a game in which we won. ( But I've forgot the score). Anyway well done and thanks to the three above for helping me out.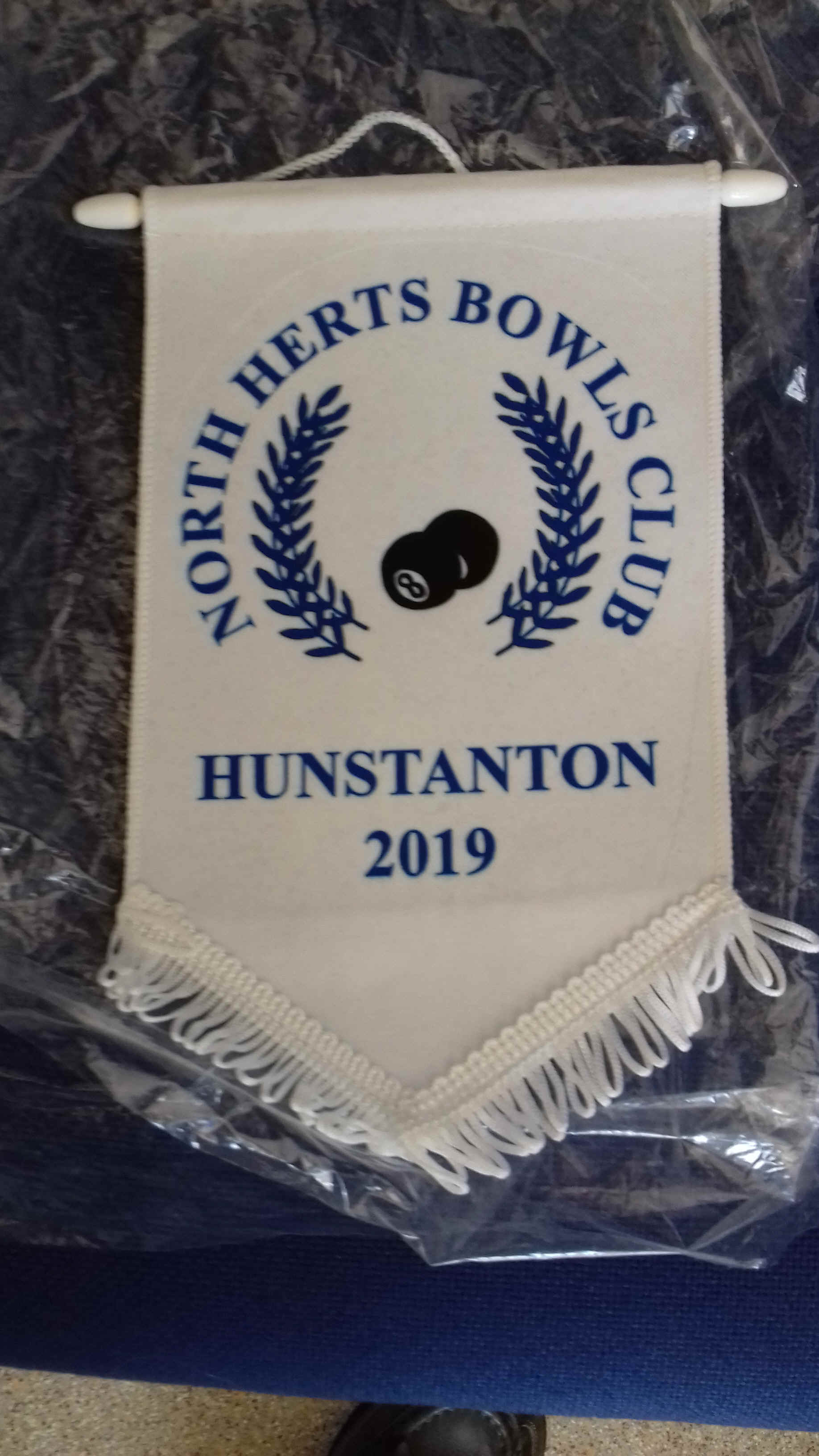 Hunstanton Trip
Well the coach arrived and we set off just after 0900 , Rose was already singing 'Oh i do like to be beside the seaside' (ok Perhaps she wasn't) But we set off in good spirits. We arrived just after 1130 , despite having to take a slight detour when the Coach wouldn't fit under a bridge.
Our hosts met us and we were able to dump our bags in the clubhouse and most decided to have a snack at the Salad Bowl Cafe. Now I'm not sure if it was called that after a salad bowl or it was a play on words as the Bowls green was right next door.
Anyway suitably refreshed most then wandered down towards the town and on route taking in the beautiful gardens. Live music was playing in the Green and with the sun shining it made for a lovely experience.
We personally then had another cup of tea while some wandered into the town or just wandered. It was then time to get back for the Bowls game.
We fielded 6 teams and we kicked off at 1430. The Sun was still shining and it made for a lovely afternoon. We then had the traditional Tea and Biscuits afterwards. Unfortunately we lost the game 66-134 with our best results coming from Lesley's team who drew and Tricia's team who only lost by one.
Following on it was time for food again so again most had to have the traditional Fish and Chips before we had to leave. The Coach left about 1920 and we arrived back at 2125 having enjoyed Mike's and Tricia's Chocolates on the way home which they won in the raffle. We were also treated to sticks of rock each by our hosts (Bob Hart) who we should thank for having such a wonderful day.
We should also thank Tony for organising and Robin for taking the lead during the day and also captaining. I also understand that we have been offered the same fixture next year on Saturday 20th June so watch this space for news on that. Finally i took a few Pictures which can be found in the Gallary.
Game v Whitethorn
Unfortunately The weather won again and the game was abandoned after two ends. The one bright note was that Jeff and Malcolm managed to get the tea and biscuits out early. Well done to them.
What happened to the wheathear
Your right its the worst spell of weather for ages meaning that The Games against Melbourne and Stotfold were lost. It also meant that the hospice evening was postponed but see below. Also the date for the completion of the Tembey and singles 1st round have had an extension to the 29th June. All Games to be completed by then..
Hospice Evening
Well the weather won here but instead of bowling Lynne organised a quiz evening with 5 teams taking part and it proved to be very successful. We had the normal food and raffle and ended up making over £145 for the Hospice. Well Done Lynne and thanks to the ladies who dished out the food.
Game v Melbourne 15th July
Please note this game in now at Home Not Away as published
Change of Captains
Please note change of Captains for these games:-
June. 21st Fri 2.30 pm Royston BC Away Captain Paul Riseborough
July. 1st Mon 2.30 pm Buntingford BC Home Captain Andy Denniss
July. 17th Wed 2.30 pm Holwell BC Away Captain Robin Edmett
July. 27th Sat 2.30 pm Steeple Mo BC Home Captain Paul Riseborough
August 7th Wed 2.30 pm Sandy BC Away Captain Andy Denniss
August 22nd Thurs 2.30pm Stotfold BC Away Captain Robin Edmett
September 18th Wed 2.30 pm The Three Horse Away Captain Paul Riseborough
Game v Shepalbury
A good win was recorded against Shepalbury with us winning on three out of the 4 Rinks.Final Score being NHBC 70 Shepalbury 43
9th Game Result v Datchworth
Another close game by the sounds of it. We won on 3 rinks but lost on the 4th with the final score being NHBC 57 Datchworth 62
8th Game Result v Steeple Morden
Well we really turned up at this event. On a nice sunny day and some great hospitality from our hosts. We won on all 4 rinks as we triumphed NHBC 77 Steeple Morden 39.
7th Game result v Three Horseshoes
This game was really close with Three Horseshoes just in front at tea. However Three Horseshoes were a player short on two rinks so losing a third of there score on these. This meant that the final score was our first victory with a score of NHBC 57 Three Horseshoes 54
6th game result v St Ippolyts
Unfortunately St Ippolyts couldn't field a team so we had 4 teams of 3 playing each other on a league basis of 5 ends each game. The winners of the garden gnomes were Jim Mustoe, Guy Osborne and Gill Davey
2nd Social Evening Tuesday 14th May
We Played Target Bowls which seemed to go down well. There were 12 teams consisting of 9 trebles and 3 pairs. We had a great evenings bowling with a Pair consisting of Paul Riseborough and Chin Tory winning the event with 107 points. The lowest placed team got 64 points and were awarded a wooden spoon each.
5th game result v Sandy
Sandy asked for an extra rink so we ended up with 5 triples. This time we were not to far behind at tea 42-49 and the first win of the season looked possible. It went to the final couple of ends in two games when we lost by 3 on each. One swing the other way , we might have won ! Anyway an enjoyable afternoon with the final score being 80-86.
4th Game result v Letchworth.
On a lovely sunny afternoon Letchworth led at tea by 21 Points (28-49). Unfortunately the tea didn't do us any good and we ended up losing 48-82.
3rd Game Result v Biggleswade
On the cold afternoon of Saturday we played Biggleswade and due to the coldness the game was reduced to 15 ends. Unfortunately we ended up losing. Final score Biggleswade 66 NHBC 33
2nd Game Result v Riverain
We were only 4 shots adrift after 11 ends when we stopped for tea and after it went wrong. However an enjoyable afternoon and Riverain made us feel very welcome. Final score Riverain 75 NHBC 57..
1st Game Result v Holwell
On a Nice sunny afternoon we played our first game of the season and narrowly lost. We were a player short due to a misunderstanding and won on 3 of the 4 rinks but the loss of a player meant a narrow defeat for the team.
NHBC Holwell
Rink 2 19 11
Rink 3 4 26 (player short)
Rink 4 17 16
Rink 5 17 13
Totals 57 66
Fish and Chip Social.
For reasons that i cant remember the Fish and Chip Evening will now be held on Tuesday 13th August. Not the 2nd August.
Dates in Competitions.
Ok I think the dates are all correct now, someone will tell me if not. The only change is that there will be no semi final's day this year. Instead all semi's need to be completed by the 2nd Sept.
T
Fixtures results
2018 Results were :- WON 9 LOST 15 DRAWN 1 Cancelled 11
2017 Results were Won 17 Lost 19 Shots for 2189 against 2366
RESULTS
If people want there result put on the website or a short report of a fixture then please email me at andrew.denniss@virgin.net or text me on 07818 664274. If you phone and I'm out I'm bound to forget !!!!!!